Every brand boasts the advantages of their ski touring boots, but nothing beats testing them in the backcountry, finding their strong and weak points, comparing their climbing efficiency and downhill performance.
This winter I've had the pleasure of being able to try the new Scarpa Alien RS, and if I call it a pleasure, it is because I really mean it.
The test started well from the outset, when trying the boots on in the shop they felt good, with a snug yet comfortable fit thanks to the Boa closure system. Locking the boot into ski mode everything felt just right, with the foot well supported and the front of the foot and toes having enough wiggle room but no lateral movement.
You can adjust the forward canting of the Alien RS between 7°, 9° 11° and 13° and I'd recommend adjusting this before heading out into the hills if you find the default position too upright.
Skinning is a pleasure, which turns into happiness.
The Alien RS is light with an incredible 72° of cuff rotation, it's so comfortable one forgets these are ski boots. With so much cuff rotation you can use the mobility of your ankles much more to achieve a long efficient stride and there's also much less need to use the binding's climbing bars. Even skiing straight up steep slopes, the lower level bar is enough.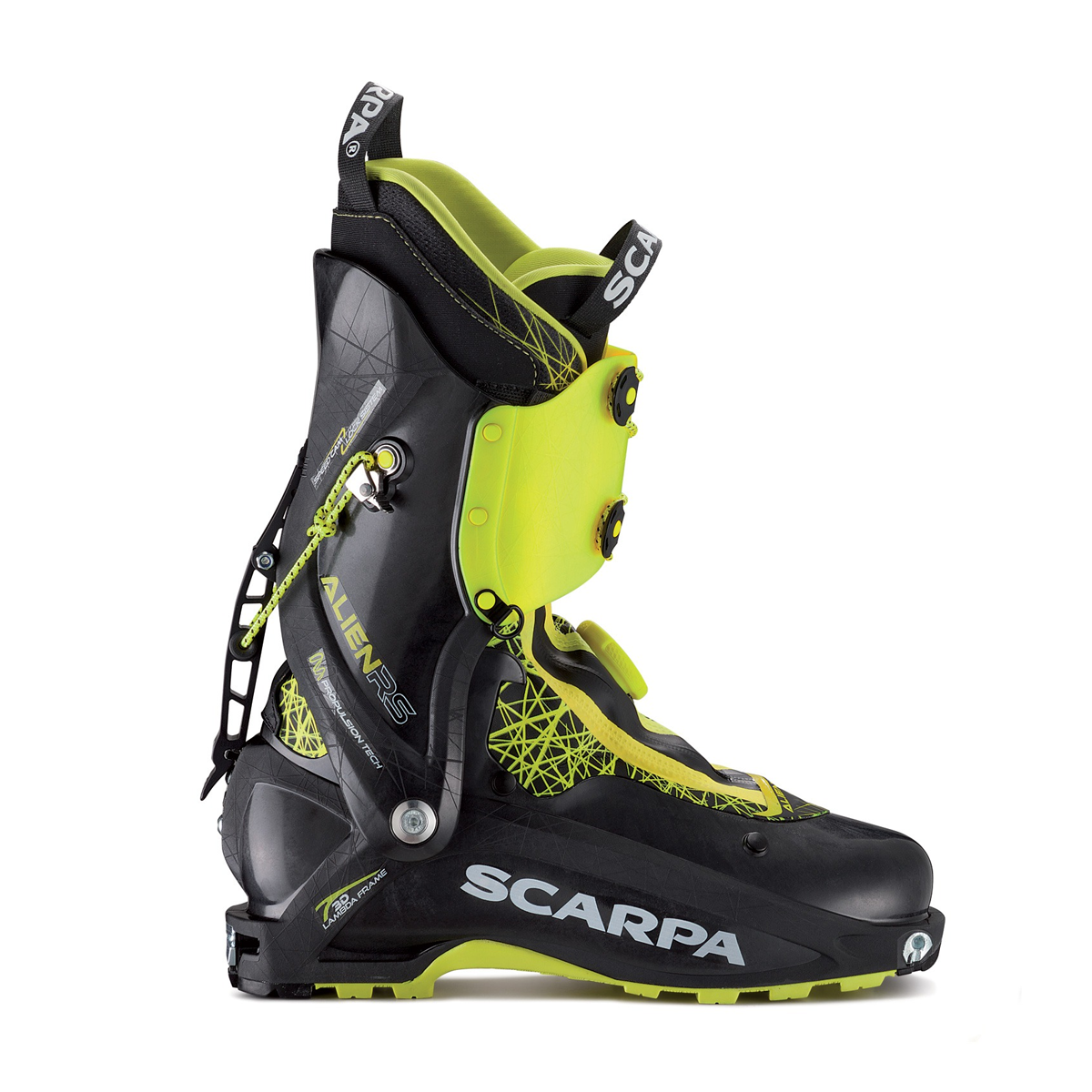 Possibly skimo competitors who are used to lightweight boots will laugh, saying that this is what they have known for a long time. I have a more classic / freeride touring background which prioritises the downhill and so am used to using much heavier boots than the Alien RS (1.76 kg / pair 27 MP). My usual boots are the Maestrale RS, a supremely versatile boot uphill and downhill, but it's true that after climbing 2000 m in a day one starts to notice their weight (2.85 kg / pair 27 MP).
Sometimes one needs to hike a while to reach the snowline, especially in the spring. With the Alien RS, no need to use sneakers for spring approaches since you can easily walk an hour or more on the track before you remember that these are ski boots!!
 
Since the Alien RS is so light, I was expecting the worst for the downhill….
So I took the first few turns very gingerly, not believing they could provide enough support for me (85 kg without fuel or backpack, and 188 cm). All went well, and so I started to apply more power as the descent progressed, finding superb control and precision. This got me thinking, why have I spent so many years dragging my heavier boots uphill?! Skiing harder and putting even more pressure on the boot, I started to find it's limits, with the Boa wires sliding a little and allowing some play.
For such a light boot the downhill performance of the Alien RS is very impressive. The shell and cuff provide good torsional stiffness and power transfer. The Alien RS has little forward flex but the precision and feedback from the boots compensates for this.
When skiing fast long turns, the boots do not flex so the overall sensation is a bit rigid, while remaining fully in control and full of confidence.
To summarise, Scarpa's Alien RS will suit many ski tourers, and as the word spreads he Alien RS is sure to become more and more popular. The increase in climbing efficiency thanks to the low weight and long stride is incredible, while downhill performance is very good for such a light boot. I've not seen any problems in terms of durability with my boots, but some skiers have had a small problem with abrasion of the gaiter against the cuff where the Boa cable passes inside. Some users have protected this area using duct tape (black!) which both protects and gives a smooth surface to prevent rubbing.
Of course lightweight touring boots are not made for steering fat skis, and I'd recommend using the Alien RS for skis up to 90 mm at the waist. (I tested them on my Scott Superguide 88s). The Alien RS has a skimo race pedigree and is not designed for jumping cliffs or backcountry freestyle, but otherwise they will surprise you with its downhill performance and dazzle you with its uphill mobility.