The Sick Day series has been successfully updated for this winter. I found the old Sick Days a little lost in the middle of the Line-up, so to speak, being less playful than the Pollard ski but offering less pure performance than the titanal reinforced Supernaturals. While the old Sick Days failed to combine these characteristics Line have upped the ante have found the perfect blend of performance and playful agility for the Sick Day 104 2018. For 2019 only the topsheet changes.
The Sick Day 104 improves with speed, skiing even tracked out crud easily and smoothly, the ski adapting to the terrain and snow density and giving the skier confidence in difficult conditions. The new core filters vibrations very well and the ski gives accurate and homogeneous feedback. Even better, and ever more unusual these days when many brands want to reduce weight to a minimum, Line have given the Sick Day 104 solid wide edges which should cope with any rogue rocks lurking under the powder!
With a waist of 104 mm the Sick Day 104 is the ideal tool for skiing all season long whatever the snow conditions. Many skis that perform in top gear are less amenable at slow speeds and when short turns are needed (for example some Kastle or Stockli models spring to mind). Nice surprise here, at low speeds the Sick Day 104 moves fluidly with little effort,  probably thanks to the shape of slight pintail and it's more subtle rocker compared to the previous generation.
LINE Sick Day Collection Skis 2019 from TELEMARK PYRENEES on Vimeo.
Line have added carbon to the new lighter core and this gives the Sick Day a good snappy rebound and very little inertia so twisty turns in the woods and gullies are fast and fun. In powder, the very smooth shape and 104 mm waist gave excellent planing, but we'll have to wait for bigger conditions for a more conclusive test in this area. There is no doubt though that these skis will perform in the deepest powder.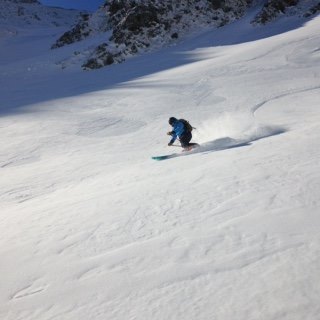 In short, the new Line Sick Day 104 is a real success. I had a lot of fun on it and was pleasantly surprised by its balance of high speed performance and low speed fluidity. An ideal companion for all snow conditions and whatever the terrain. Very few skis are as versatile and I found these as effective as a Black Crows Corvus (which remain my reference all-mountain skis) but much more fun and faster under foot.