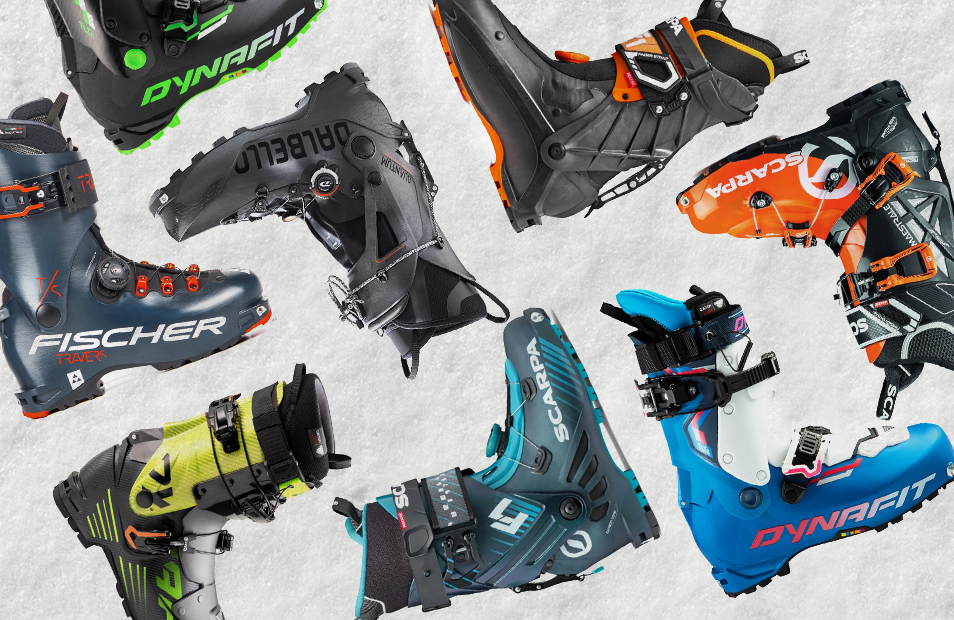 Alpine touring boots can be divided into three categories depending what style of ski touring you'll be doing.
RACE boots are very light, extremely expensive, moderately uncomfortable and often pretty fragile!!
EFFICIENT boots are light and designed allow natural striding when climbing and provide good downhill control when used with narrow to medium-wide touring skis.
FREE RANDO boots look more like alpine ski boots with a shell / tongue / upper cuff construction and with 3 or 4 buckles. 
These boots are heavier and offer a high level of downhill control, supplying the power required to ski wider touring skis, but are harder work when skinning up.
We recommend that most people start touring with skis 80-90 mm at the waist and for these skis the EFFICIENT boots are the best choice for most people.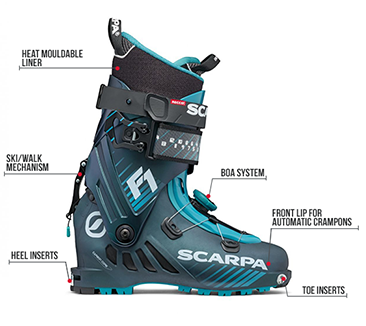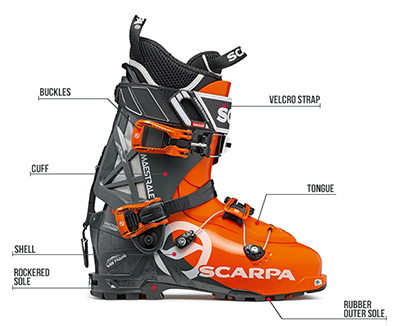 Advances in touring boot design are usually seen 1st on race boots, and once de-bugged are applied to the other category boots. As a result, many Efficient boots have a similar appearance to Race boots. They have only 1 or 2 buckles, which may be interlinked with the ski-walk mechanism, or use the Boa system instead of buckles. A good example is the Scarpa F1, above left. Free rando boots also benefit from advances in boot technology and the lighter models of the more traditionally styled boots, such as the Scarpa Maestrale (above right ), are only slightly heavier and can be used with efficient skis if you want a higher level of downhill control.
Before we look at this year's boots, let's consider what a touring boot has to do. A good touring boot has to fulfill the following requirements:
1 - Low weight.
Touring boots have to weigh as little as possible so that you can climb effectively. While weight is relatively unimportant for downhill boots, minimal weight is essential for touring.
Manufacturers use advanced polymers to create boot shells that are light yet rigid over the temperature ranges encountered when touring. Many top-end boots use Pebax for the shells, while some are now using a polymer called Grilamid which allows the creation of more compact shells that feel more like a walking boot than a ski boot. Boot designers have found clever ways to get efficient closure with the minimum number of buckles, and link buckle closure with activating the ski / walk mechanism. Most models have heat mouldable liners which are lighter than traditional liners.
Most Efficient touring boots weigh between 2.0 and 2.5 kg per pair, while Free Rando boots will weigh 3.0 kg or more.
2 - Comfortable and warm.
You'll be using wearing these boots for several hours, maybe for several days running, and comfortable boots let you concentrate on the skiing. It's important to choose a boot that's going to be comfortable all day yet give good control when the buckles are clamped down for skiing. The width of the last (foot form) used when making boots varies between brand and even between models, so it's worth trying several pairs to be sure that you've found the boot best suited to your feet.
Most AT boots now use foam inner boots or liners which can be heated up then moulded to the shape of your feet. These liners are light and warm and once moulded are comfortable (before moulding they can feel a bit hard).
Liners can have a traditional tongue design or an Overlap design. The traditional tongue design gives better mobility in walk mode, so the ankle can flex forward and back during each stride, so is used for most Efficient boots.
Some Free Rando boots have Overlap liners, which give a more snug closure around the lower leg for more control when skiing. 

3 - Walkability.
Unlike an alpine ski boot with it's flat, hard sole, alpine touring boots have a rockered sole to give an efficient stride and a rubber outer sole that grips well so you can walk pretty much normally.
4 - Cuff Articulation.
All alpine touring boots have a ski / walk mechanism at the back of the boot cuff & shell. In ski mode this locks the cuff in a forward position, like that of an alpine ski boot, so that we can apply power to the ski. 
In walk mode the mechanism unlocks the cuff so it can move freely backwards and forewards with the leg, making each stride as efficient as possible.
5 - Control & Safety.
The boot has to offer good downhill control and release safely from the bindings in the event of a fall. Alpine skiers going touring for the 1st time often find the level of control with touring boots lower, but once you've made a few descents you'll find that the boots do work well. All efficient touring boots have "inserts" at the boot toe and heel for use with insert bindings. (take a look at TP's blog Ski Touring 101 #2 Bindings for more info about these). Some models can also be used with plate bindings, and even alpine bindings with toe units that have height adjustable AFDs (anti-friction devices) like the Marker Squire/Griffon/Jester family. Most of the latest generation efficient boots have compact toe designs and can only be used with insert bindings.
Boot Sizing.
All boots have a footbed or inner sole inside the liner, which provides a stable platform for the foot. Alpine touring boots use the Mondopoint system (MP) of sizes, which refers to the length of the footbed in cm. 
A size 27 MP boot has a footbed 27 cm long, a size 28.5 MP boot a 28.5 cm footbed.
Most touring boots are made in full and half sizes, 26, 26.5, 27, 27.5 MP, however some brands (Atomic, Fischer) only make one size per shell size, 26/26.5 MP, 27/27.5 MP, the idea being that the foam liner can adapt sufficiently when moulded to adjust at least a half size.
Most people need a boot with a footbed 5-10 mm longer than the length of their foot when measured by backing the heel up against a vertical stop and measured to the front of the longest toe.
People with particularly wide feet may need to go up a shell size to get a comfortable fit, while skiers with bone spurs or other problems can require a visit a specialist boot fitter to have the shells enlarged.
OK OK, you've read all this stuff, but which boots do you need to get started?!!
The following models are all good boots, the comments explain their main characteristics.
Fischer Travers Series
Fischer have only been producing touring boots for a few years, but their Travese series has rapidly gained a loyal following. A clean simple design with just one buckle / velcro strap and the Boa closure system which closes evenly around the top of the foot, the Travers boots have excellent cuff articulation to get you uphill as fast as possible. The Travers have a medium fit that suits many people and is available in four different models. The Travers CS (not shown) is the top of range model and has a Grilamid shell with a Carbon-Aramid sole insert for torsional rigidity. A great boot but not what you need, or need to spend, to start with. The Travers GR (men) and My Travers GR (women) is exactly the same boot except that it does not have the sole insert and is an excellent choice for both beginners and experienced tourers. For skiers on a budget, the Travers TS uses a different shell polymer and weighs 110 g more per boot than the GR. 
Dynafit TLT8 Expedition CL (men) and Dynafit TLT8 Expedition CL W (women).
Now producing the 8th generation of their TLT series boots, Dynafit have been at the forefront of AT boot design for over 30 years. The TLT8 has a clever design whereby closing the top buckle around the cuff automatically sets the boot in ski mode, while opening it returns it to walk mode. Nice light comfortable boots which are very popular in North America and Germany. To save weight the TLT8 has a short stubby nose with no lip for attaching automatic crampons. You can however use the world's lightest crampons with these boots, the Dynafit Cramp-in Crampons. 
Developed specifically for use with the TLT8 boots, the front lug of the crampon clips into a bracket that must be added to the boot sole. Not something that you'll need when starting out, but good to know about should you use these boots.
Scarpa F1 and Scarpa F1 Women
Scarpa's F1 has been the best selling AT boot in France for the last three years and with good reason.
Light with massive amounts of cuff articulation for easy climbing, the F1 has two cuff straps with Velcro plus the Boa system for precise closure.
Scarpa is the only manufacturer licenced to use the latest Dynafit toe inserts with a vertical slot that does make step-in easier (the TLT8s above also have these inserts).
For gram counting fanatics Scarpa also make the F1 LT, an even lighter version which weighs only 990 g per boot size 27 MP and has a slightly narrower last (100mm compared to 102mm).
Available in men's and women's versions, the F1 is an excellent boot.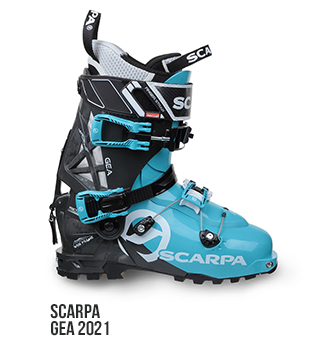 Scarpa Maestrale (men) & Scarpa Gea (women)
The latest Maestrale and Gea boots really changed what was possible with a boot weighing less than 3 kg when they were introduced last winter. Scarpa make 3 Maestrale models, the standard Maestrale with a flex of 100, then the Maestrale RS & XT models which are progessively stiffer, Free Rando boots for wider skis. The Maestrale / Gea however can be used with efficient AT skis and bindings. Three buckles plus a Velcro strap combined with a stiff yet light cuff design give these boots plenty of power while the 60° cuff movement, while less than the lighter models above, is far more than most Free Rando boots. A good choice if you are looking for a more powerful boot and are willing to heft a bit more weight uphill.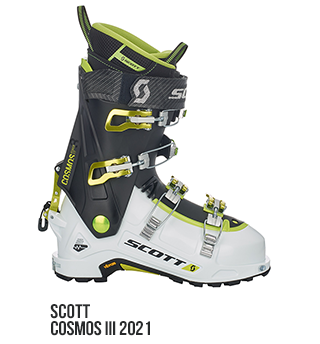 Scott Cosmos III
The Cosmos has been a popular boot for several years. A wide high volume boot, this is often the only boot people with wide feet are comfortable in, and that's why we stock it, comfort being more important than low weight or the degree of cuff articulation. That said, it's true that the design of the Cosmos dates from some years and its' performance is well below that of the Maestrale, for example. Be careful when buying older versions of this boot, which often suffered breakages of the ski/walk mechanism (fixed since last season). 
We hope this article is useful but should you like help deciding what's best for you then get in touch, we're here to help.
We can send gear to Andorra, no problem. The best way to choose boots is to try them, so if you can come to our shop in Ax you can be sure to get the best fit and we can mould the boot liners for you.
We recommend buying skis and bindings using TP's Alpine Touring Package deals. Each package is chosen to offer compatible skis and bindings at the best possible price.
We mount bindings and trim skins to the shape of your skis free of charge, just tell us the make, model and mondopoint size of your touring boots.