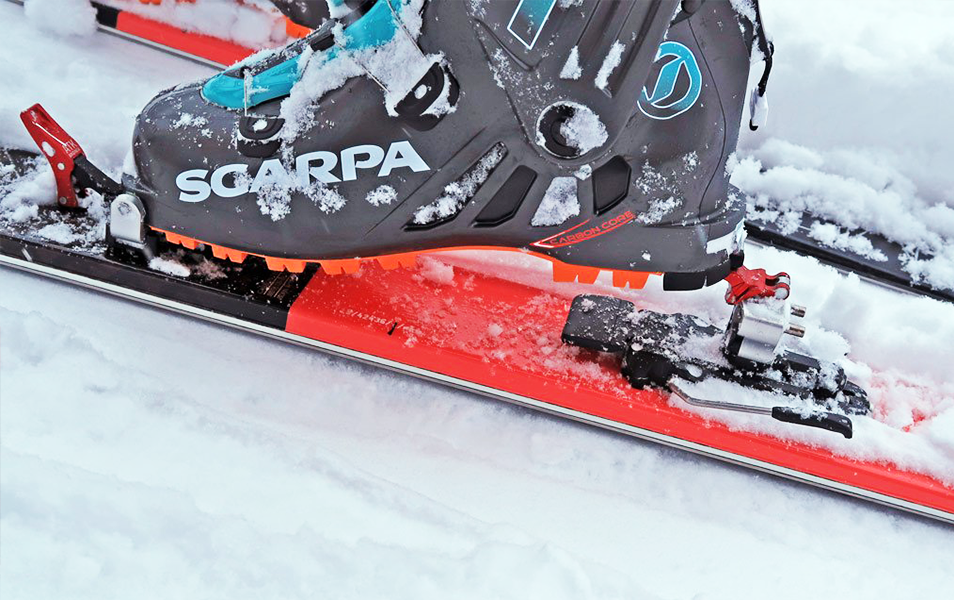 This blog explains what to consider when buying your 1st pair of bindings to start ski touring. We recommend that newcomers to touring start with EFFICIENT category ski, boots and bindings.
EFFICIENT tourers want reasonably light gear that's practical for skinning up and that will work well in the snow conditions and on the terrain they'll encounter going downhill.
These bindings are the most suitable when starting ski touring and this blog explains what to look for and how to choose which binding will be best for you.
Alpine touring bindings have to fulfill several criteria: low weight, reliable release in the event of a fall and have a "walk mode" for skinning uphill and a "ski mode" for descent.
There are two types of alpine touring bindings, plate and insert bindings.
Plate Bindings
Plate bindings have a plate that connects the toepiece and heel unit. This plate is hinged under the toe unit, and can be unclipped at the back so that the whole binding can lift up with the boots as one strides forward.
Plate bindings offer the same level of release security as alpine bindings but are heavy, typically 1.5-2.0 kg / pair, more than double many insert bindings. What's worse, the binding lifts up with the boot, making each stride more physical than when lifting the boot alone as when using insert bindings. (the rule of thumb that a kilogram weight on your feet is equivalent to 7 kg in your backpack applies here). One advantage is that one can use alpine boots with plate bindings, and nowadays the only people using them are people who wish to use one pair of skis for both resort and touring, or people who are particularly concerned about release safety.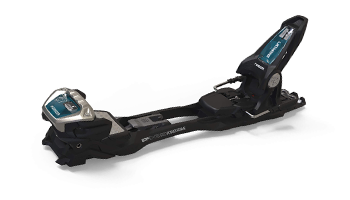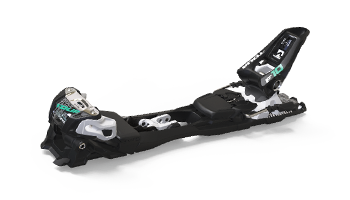 Insert Bindings
Insert bindings use a toe unit with metal jaws with metal pins that clamp into metal inserts at the front of the boot. The heel unit has two forward-pointing metal prongs that clip into a recess at the heel of the boot. For climbing the heel unit is disconnected from the boot which can then rotate freely in walk mode. Invented by Dynafit over 30 years ago, most alpine touring bindings are now insert bindings. This winter we stock 61 different models of alpine touring bindings; 58 are insert bindings. Insert bindings take their name from the inserts required on the boots used with them, and are also called "Tech", "TLT" or "Low Tech" bindings, these refering to names used in the past by Dynafit, who for many years were the only manufacturer of this type of bindings thanks to a series of patents. Nowadays other brands use and have further developed the concept. Insert bindings are light and offer friction-free efficient climbing. They offer good downhill control on narrow to medium wide skis, and reliable safety release when correctly adjusted.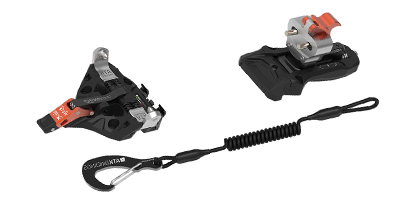 Insert Binding Safety
The level of release security is less sophisticated than that of alpine bindings but we have never seen any instances of touring skiers being injured due to release failure. Lightweight AT bindings either have adjustable DIN release, like alpine bindings (eg 3-8, 4-10, 6-12 DIN) or a fixed DIN setting that should be chosen according your weight, skiing level and ski boot size. The Marker Alpinist bindings, for example, are available as 3 options with fixed release "equivalent to" 8, 9 and 12 DIN. Please note the phrase "equivalent to". These lightweight insert bindings have release parameters very similar to the ASTM F939-19 standard for alpine bindings but have not passed this standard, there is not an industry-wide standard for insert binding release functionality.
Insert bindings provide safe release when used properly but it is essential that skiers know how to use them correctly. When skinning up the ski boot is only attached to the ski by the toe, and if the toe unit jaws open the ski will fall off, inconvenient at best and bad news should it head off downhill.To prevent this one steps into the binding so that the jaws close on the boot toe, then lock the toe unit by pulling up on the lever in front of the boot toe into the "walk" position. 
When skiing downhill one should never ski with the lever in the "walk" position, since the boot will not release. Make sure the toe lever is in the lower "ski" position before skiing.
Heel Lifts
When walking uphill with the skis the pressure on the calf muscles increases as the slope gets steeper. To reduce this pressure and make climbing more comfortable, alpine touring bindings have heel lifts (also called climbing aids).
These allow the heel of the boot to be supported at a height above the ski so the boot is in a more horizonatl plane than the slope. All touring bindings provide at least one heel lift and some offer a choice of two or even three heights. At which point you need to use heel lifts is a personal choice. Some people start using them as soon as they start climbing, others only when it's very steep. Using heel lifts reduces the length of the stride and so many racers try to avoid using them if possible, but for general touring they certainly make climbing more comfortable.On the lighter bindings one has to activate heel lifts by hand (helps to be supple) while on the more sophisticated bindings heel lifts can be flipped into action with the ski poles.
Ski Flex Compensation
When making a turn the ski bends up at the tip and tail, compressing the boot between the bindings. This in turn can "block"  the ski under the boot, preventing an even flex through the length of the ski and can affect binding release. To get around this most modern AT bindings have heel units that sit on a baseplate with a sprung rail that allows the heel unit to move forwards and backwards as the ski flexes. Typically 10-15 mm, this movement lets the ski retain an even flex and the binding to release correctly. 
Ski Brakes or Leashes?
Gram counting tourers will use leashes to reduce weight while free rando tourers use ski brakes. Most of the Efficient category bindings can be used with ski leashes and are also available in versions with ski brakes.
Which is best is not just a question of weight, each has pros aqnd cons. In icy conditions a ski with brakes can take awhile to stop, a long while on steep icy slopes, while a leash keeps the ski near you. Sometimes this can be too near you and if you take a high speed tumble you risk getting bashed by the ski flailing aound. I've never actually seen a case of this but it does happen. Should you be avalanched then ski brakes will let the ski release away from you, while leashes mean you are connected to the ski, which can pull you down deeper into the avalanche. With leashes you also need to ensure the ski won't shoot off while you're stepping into the skis (attach leash first, THEN step in...) while ski brakes avoid this complication. Leashes or brakes is really a personal choice but in general we'd recommend ski brakes since they only add 100 g or so to the ski and do make life easier.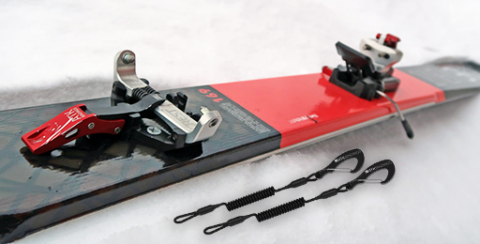 Boot Length Adjustment
While alpine bindings all have a large margin of adjustment for different boot lengths, this is not the case for all touring bindings. Race bindings generally have no length adjustment and are mounted precisely for the boots to be used.
There is no margin of error when mounting the bindings and you cannot use the bindings with boots with a different sole length. Some efficient bindings have zero adjustment or are available in two versions. The ATK Trofeo has no adjustment but the ATK Trofeo Plus does, for example. If you wish to share your skis with someone else, or have two pairs of boots with different sole lengths, then make sure the bindings can accomodate this.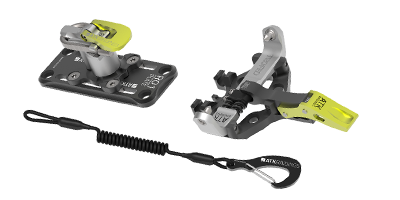 Wow, there's so much to think about, so.....
Which bindings are good for me?
We'd recommend the following bindings as good models for general touring. All are good, the comments serve to highlight differences between models.
The weight listed is per ski.
 
DYNAFIT TLT SPEED TURN 2.0
The latest incarnation of the original insert binding. Good value for money, adjustable release 4-10 DIN.
Basic heel lift system and heavier than more modern bindings. 342 g.
DYNAFIT TLT SPEED RADICAL
An updated version of the Speed Turn, with the excellent "Radical" heel lifts. Adjustable release 4-10 DIN
Heavier than more modern bindings. 349 g.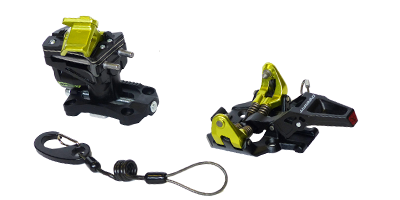 ATK CREST 10
Our best selling binding the last two years. Simple, light, torsionally rigid with a very good ski brake mechanism.
Also available with the lower 8 DIN setting for lighter skiers. 280 g including ski brakes.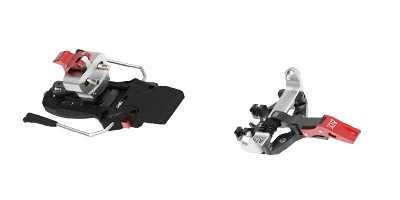 ATK RELEASE 10
New for 2021, a lightweight binding for skiers who prefer leashes to brakes. 240 g.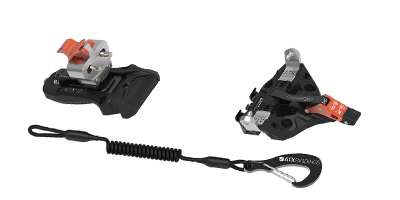 ATK TROFEO
A very popular binding that bridges the race/efficient categories. Good value for money. Possibly too minimalist for beginners?
Possibly too minimalist for beginners?  No boot length adjustment, choice of fixed DIN release 4/6/8/10. 145 g 
This binding is also available with a heel unit with an additional baseplate that gives 30 mm boot length adjustment. 165 g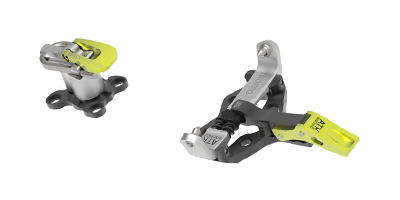 FRITSCHI XENIC 10
A binding with a unique toe piece unit where the jaws move laterally to close / release (all other bindings have jaws that rotate around an axis) , and with advanced release function (releases faster than most bindings when falling forward).
Sold without brakes which are available as options. 280 g without brakes.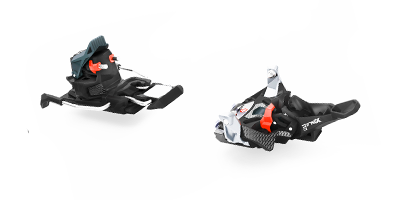 MARKER ALPINIST BINDINGS
Popular bindings since their introduction two winters ago, the Alpinists are available in three versions according to DIN release: Alpinist 8 (3-8 DIN), Alpinist 9-(4-9 DIN) and Alpinist 12 (6-12 DIN).
Strong rigid toe unit, simple heel lift system. 245 g.
These bindings are also available with ski brakes and additional boot length adjustment: Marker Alpinist Long Travel. 345 g.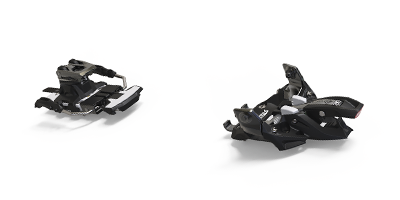 DYNAFIT ST ROTATION 10
A "free-rando" binding with sophisticated release, ski brakes, ergonomic Radical heel lifts, boot length adjustment.
Normally used with wider skis but can also be used with "efficient" skis if you prioritise comfort and ease of use over low weight.
An excellent binding but heavier than the models listed above. Also available with 12 DIN - Rotation 12.  600 g.
Binding Summary:
These bindings are all good. To summarise according to skier priority:
Low price: Dynafit TLT Speed Turn 2.0, TLT Speed Radical, ATK Trofeo.
Modern bindings with leashes: ATK Trofeo, ATK Release 10, Fritschi Xenic, Marker Alpinist.
Modern bindings with brakes: ATK Crest, Marker Alpinist Plus, Fritschi Xenic (brakes optional extra).
Sophisticated release: Fritschi Xenic, Dynafit ST Rotation 10 / Rotation 12
Ski Crampons
These are essential. In icy conditions even moderate slopes can be treacherous. Always put them on before you find yourself shaking on that steep icy slope. No one ever does !
Ski crampons attach to the toe unit and give additional grip in icy conditions. Even a moderate slope can require ski crampons when icy, so always take them with you. Each binding manufacturer makes ski crampons for their bindings with a choice of widths. You should choose the width that is just wider than the waist of your skis: for example if your skis are 88 mm underfoot, choose a 90 mm ski crampon.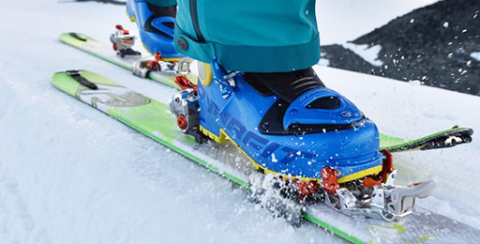 We hope this article is useful but should you like help deciding what's best for you then get in touch, we're here to help.
We can send all this gear to Andorra, no problem. The best way to choose boots is to try them, so if you can come to our shop in Ax you can be sure to get the best fit and we can mould the boot liners for you.
We recommend buying skis and bindings using TP's Alpine Touring Package deals. Each package is chosen to offer compatible skis and bindings at the best possible price.
We mount bindings and trim skins to the shape of your skis free of charge, just tell us the make, model and mondopoint size of your touring boots.
Look forward to seeing you in the mountains!!