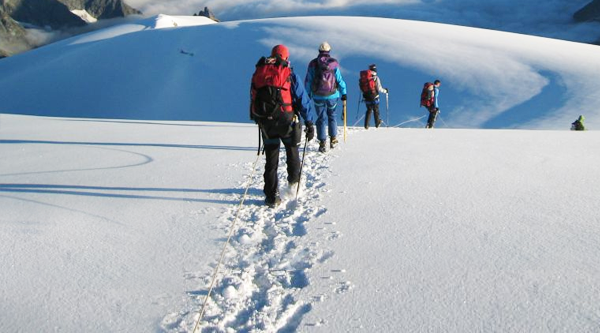 It's getting warmer and warmer, you're starting to melt behind your desk.Time to get up, get out and walk for a few hours in the mountains, breathe some fresh air and see those snowy slopes high above us. Glacier walking is a popular summer activity and a great way to discover the mountains, as well as being a good excuse to escape the heat. This blog explains what you need to travel safely on glaciers in the summer.
While glacier walking does not involve the same commitment as mountaineering or climbing, you do need to properly equipped and understand how to travel safely on glaciers.
Glacier travel occupies a hybrid position between hill walking and mountaineering. The gradient is not usually steep and you may not even need to use your hands, apart from using poles, but you do need to be fully equipped with the same gear you'd use for easy mountaineering. The border between hill walking and mountaineering often overlaps, and since "glacier travel" involves "glaciers" there are objective risks - crevasses !! 
Safe glacier travel requires prudent route finding, the correct equipment and knowing how to use it. Here are our recommendations for the gear you'll need for safe glacier travel:
What equipment is needed for glacier travel?
Ice Axe
No need for a super-technical axe, an axe with a straight shaft best, and can be used as a support or instead of a pole. Choose one with a length of about 60 cm, depending on your height, that you can use as a support, and of course to self-arrest should you slip or fall. A good steel head, with a blade that penetrates well into the hard snow is best. The Petzl Glacier, Grivel Ghost or Black Diamond Raven Pro models are ideal.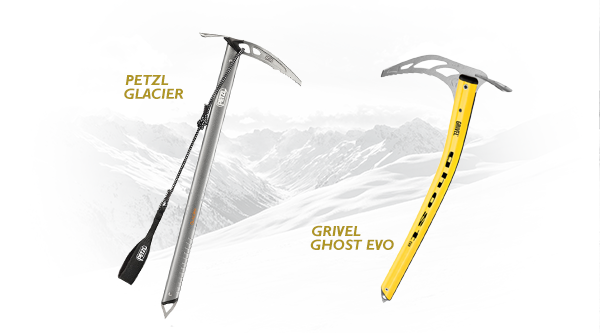 Crampons
Similarly for the crampons, no need to choose super technical model with 14 or 20 points.
10 or 12 point steel crampons, such as the Black Diamond Neve, Petzl Irvis or Grivel Air Tech will be lighter, easier to walk with and offer plenty of grip. If weight is an issue then you can also use the lighter aluminum crampons but these are less wear resistant. Glacier travel often involves walking on a mix of hard and soft ice mixed with rocks of all sizes, which will soon wear aluminium points down. 
Make sure that the crampon attachment system is suitable for your boots, and that the crampons have anti-balling plates.
ALWAYS put the crampons on BEFORE you move onto the glacier. It may look flat or easy at the start but best to equipped before things get edgy!!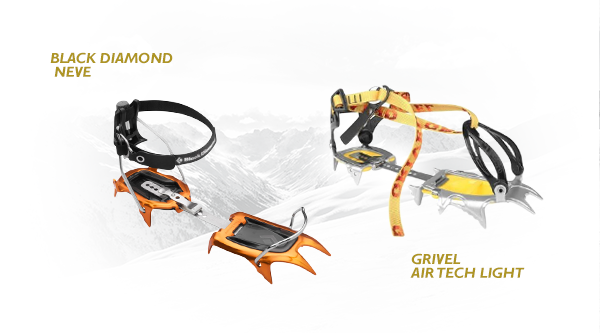 Rope
Unlike hill walking, for glacier travel a rope is essential. Choose a single rope (also certified double or twin) long enough to have a spare end in case, such as the Beal Opera 8.5, Mammut Serenity 8.7 or Petzl Volta Guide 9.0, or on a twin rope such as the Petzl Rumba 8.0. You need two identical lengths,in case….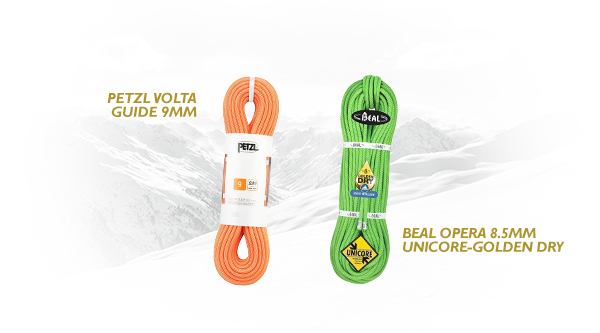 Helmet
While glacier travel often involves crossing only moderate slopes rather than scaling the heights, always best to wear a helmet, in case….
Choose a light model with plenty of ventilation vents such as the Petzl Boreo, the Camp Storm, or the Black Diamond Half Dome .
Crevasse Safety Equipment
Two or three carabiners, 60 cm and 120 cm slings, one or two medium length ice screws such as the Black Diamond Express or Petzl Laser Speed, thin cord if you'll be making Prussik loops. 
There are also "ready-made" kits like Petzl's "crevasse rescue kit" which includes two carabiners, a sling, pulley, a self-locking pulley and a blocker. 
Just like avalanche rescue equipment, take the time to practice using this gear before venturing onto the glacier. Don't delay reading the instructions until you need to use it…..


Harness
Choose a simple light model, ideally one that can be put on without removing your boots, such as the Black Diamond Couloir, Blue Ice Choucas or Choucas Light, Petzl Altitude.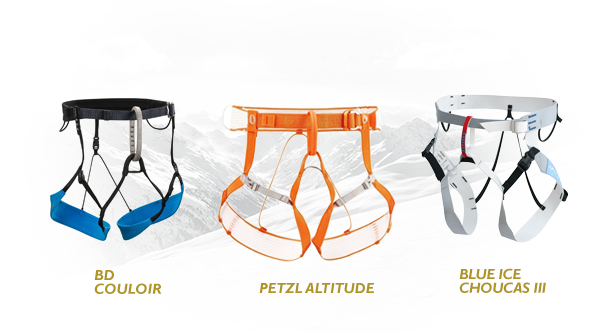 Fully equipped now you're ready for summer glacier adventures. Should you like more advice please get in touch, the friendly and experienced Telemark Pyrenees team is here to help!! Have a great summer.