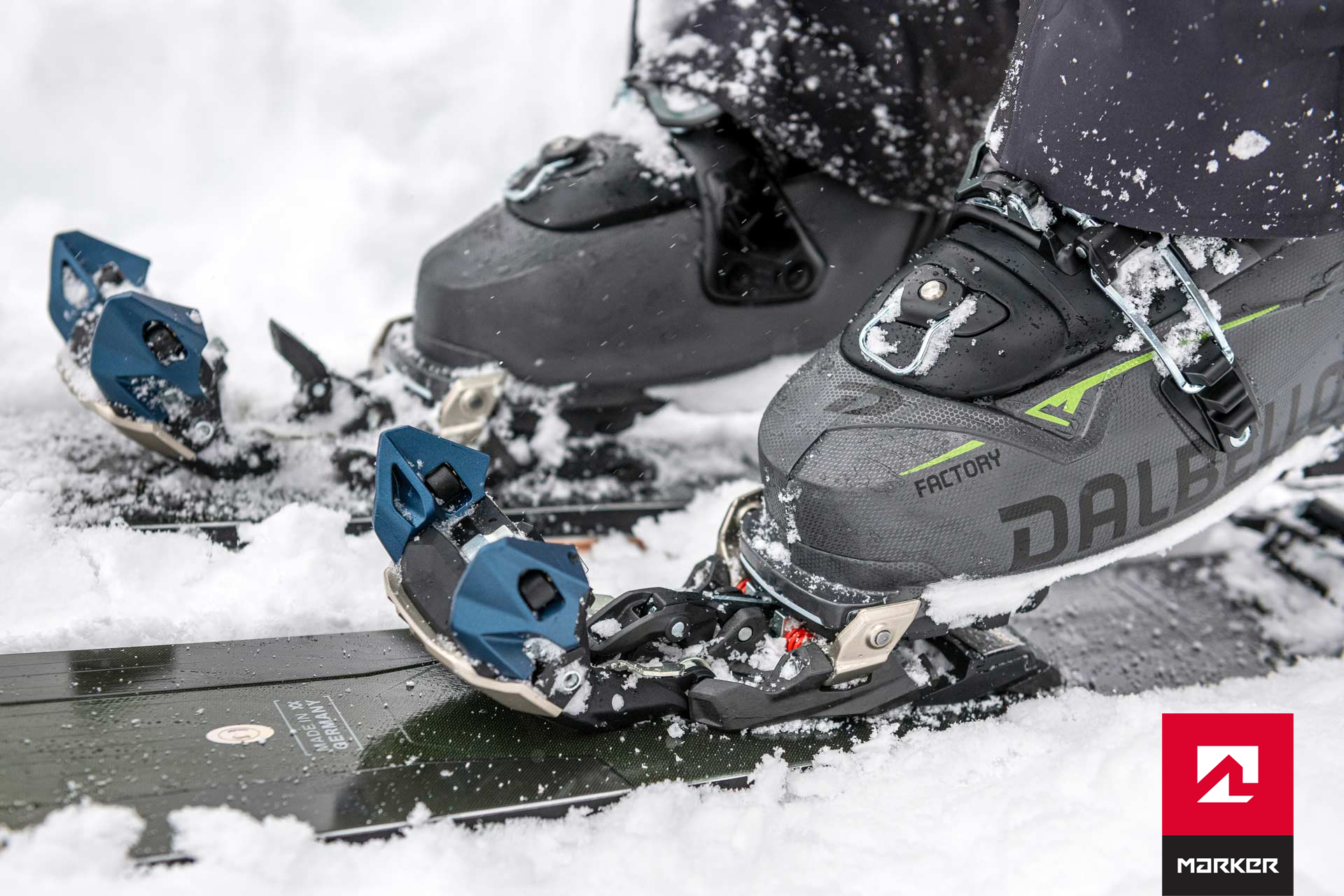 Marker have been busy developing new technologies showcased in their new models and improvements to existing bindings for winter 20/21. This winter Marker introduce the new Duke PT 16 with a dual-system toe piece, in the same spirit as Salomon's Shift binding. Marker have updated their alpine bindings and also the Kingpin 10 & 13 with lighter and stiffer components. The Alpinist line is extended with the addition of the Alpinist 8. 
ALPINE BINDINGS: Marker Squire 11 ID, Griffon 13 ID, Jester 16 ID & Jester 18 Pro ID 
Marker's Royal Family have gained a solid reputation as reliable and precise bindings with models catering to every level, from beginners to professional level skiers.
For 2021 Marker have updated both the toe and heel units, shaving weight, improving boot rentention and increasing binding stiffness to give even higher perfomance.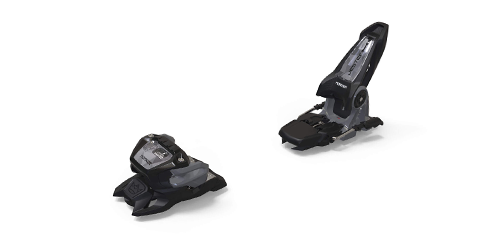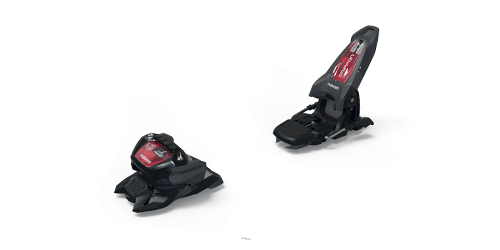 The top of the line Jester 18 Pro ID, Jester 16 ID and Griffon 13 ID all showcase Marker's latest Triple Pivot Elite Toe and the Inter Pivot 3 Freeride Heel unit, which deliver improved edge grip and control.
Another new feature is the Anti-Ice Rail on top of the toe unit that makes snow removal from the boot sole easy before stepping into the bindings. 
These bindings also feature Marker's Sole.ID technology that allows you to adjust the binding to accommodate either touring or alpine boot sole norms.
To maximise security Marker supply these bindings with "no-pull-out" screws while the centralized swing weight makes these bindings ideal for spins & twists.
Magnesium Components:
The Jester 18 Pro ID and Jester 16 ID have Marker's latest Magnesium sole holders in the toe combined with a Magnesium heel housing provide the solid construction for the hardest charging freeride athletes
Triple Pivot Elite Toe
The new toe construction ensures impressive retention when freeriding. The spring in the toe is inserted horizontally and with a sole plate inclined by 5° it provides higher energy absorption so reducing the risk of pre-release. The large supporting area under the boot toe optimizes power transmission giving better edge grip and hold.
Inter Pivot 3 Freeride Heel
This third generation heel unit has been completely updated to provide improved power transimission, energy absorption and vertical heel elasticity combined with even easier step in.
Sole ID
The toe unit has a height-adjustable gliding plate that enables these bindings to be compatible with alpine (ISO 5355), touring (ISO 9523) and GripWalk soles. It's easy to adjust using the pozidrive screw at the front to adjust the height of gliding plate.
AFD Gliding Plate
Marker bindings are equipped with a moveable AFD (anti friction device) supporting a precise release almost entirely unhindered by dirt, snow and ice.
Gliding plate resistance is optimised for each binding taking into account skier profile, from racing, freeride to children's bindings or ski touring.
Anti Ice Rail
Use the metal rail to scratch off ice and snow below your boot sole.
The Squire 11 ID is desgned for lighter skiers and skiers who prefer and a lower DIN release range and features the Triple Pivot Light toe and Hollow Linkage heel units.
DUAL FREERANDO / ALPINE BINDINGS: Marker Duke PT 16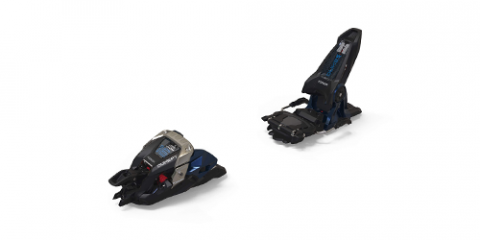 Brand new for 2021, the Duke PT 16 is Marker's rando/alpine binding with a dual system insert / alpine toepiece similar in concept to that of Salomon's Shift bindings. Designed for skiers who would like some touring capability combined with the performance and security of an alpine binding, the PT 16 combines the functionality and downhill performance of a Jester with the comfortable uphill properties of a pin binding.
Toe Unit


The Ride & Hike toe unit of the Duke PT 16 is easy to use. In walk mode the upper part is simply unlocked and tilted forward, uncovering the pin binding. To save weight when climbing this upper section can be removed and stored in the backpack. The saves 300 g per ski when climbing, reducing binding weight to 1.05 kg per ski. For downhill mode the front jaw section simply clicks back onto the base plate of the toe unit, being securely held in place by the Auto Quad Lock technology, featuring a 4-point self-locking mechanism. In downhill mode the toe piece works just like an alpine binding.
Heel Unit
The Duke PT 16 has Marker's latest generation Inter Pivot 3 Freeride Heel unit with a DIN range of 6-16. The housing is made with magnesium for reduced weight and superior stiffness. The heel unit has a multi functional Lock & Walk mechansim that automatically locks the brakes up and  and provides a 10° climbing aid.  The heel unit gives the boot a snug height of only 24 mm above the ski, for powerful power transmission and fast edge-to-edge transfers. The Duke PT 16  features Marker's Sole.ID technology is compatible with alpine, touring and GripWalk boots. The Duke PT 16 is available with a choice of ski brake widths, 100 mm or 125 mm.
Like the Salomon Shift, the Duke PT 16 is considerably heavier than most alpine touring bindings and is designed for a side-country or heliski + short skin usage. That said, the Shift has been very popular and no doubt there will be plenty of skiers who are willing to put up with some extra weight for the downhill perfomance and sense of security that at alpine binding offers. 
Marker Duke PT16 Features:
The Duke PT 16 shares the same features as the alpine bindings above, plus the following unique features:
Lock & Walk Brake
Including neutral walking mode and 10° climbing aid
Auto Quad Lock
Toe part locks itself at 4 different points automatically when stepping into the binding
Ride & Hike Toe
For great Royal Family downhill performance and release function combined with pin-technology for strong uphill performance; DIN 6 – 16
Magnesium Parts
Magnesium sole holders in the toe combined with a Magnesium heel housing provide the solid construction for the hardest charging freeride athletes.
FREE-RANDO BINDINGS: Marker Kingpin 10, Kingpin 13 & Kingpin M-Werks 12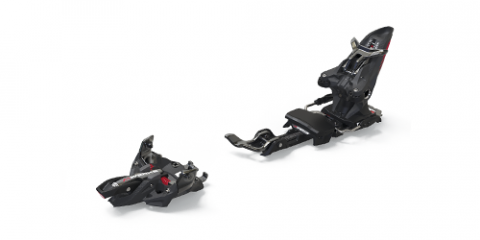 The Marker Kingpin redefined free-rando binding performance when it was 1st introduced in 2015. Available with a choice of 4-10 or 6-13 DIN, torsionally stiff and easy to use, the Kingpin rapidly became one of rhe most popular free-rando bindings. Alpine touring binding performance improves every winter and for 2021 Marker have updated the Kingpin 10 & 13 with a new lighter toe piece, similar to that used by the Kingpin M-Werks, to ensure the Kingpin stays at the front of the pack.
Marker Kingpin Features:
Toepiece
The new Kingpin uses the toepiece of the lightweight Alpinist bindings. Combining the Alpinist toe piece with the Kingpin heel unit has allowed Marker to reduce the weight of the Kingpins by 80 g per ski without losing performance. The new toe piece benefits from the latest plastic/carbon technology and features a carbon-reinforced baseplate and anti-ice pads while elastomer "towers" make step-in easier. Of course it's a little ironic that the new toepiece only has two springs when one of the unique selling points of the original Kingpins was the fact that it had six springs. We always thought the argument for 6 springs was a case of marketing rather than physics and the new bindings ski and release at least as well as the earlier model.  
Heel Unit
Unchanged for 2021, the Kingpin's heel unit has a wide platform to deliver the efficient power transfer to the skis more often seen in alpine bindings. The Kingpin heel does not use "pins" to connect to the ski boot heel, but Marker's circular XXL Power Transmitter wheels that securely clamp down and automatically centre the boot heel while also providing minimal friction during boot release. The Kingpin 13 has a release range of 6-13 DIN and like most free-rando bindings both lateral and vertical release are individually adjustable. The climbing aid offers two positions with 7° and 13° lift and is easy adjust using a ski pole. Elastomer pads on the climbing heel dampen the impact and reduce that irritating "clack" sound to make climbing more comfortable. The Kinpin heel unit has 25 mm (+12.5 mm / -12.5 mm) boot sole length adjustment.
Ski crampons are available as options for the Kingpin bindings in a choice of 4 widths: 80mm, 90mm, 105mm, 120mm.
The Kingpin 10 & 13 now feature many of the innovations developed for the toe unit of the Kingpin M-Werks when it was introduced last winter. The Kingpin M-Werks stays unchanged for 2021.
TOURING BINDINGS: Marker Alpinist 8, Alpinist 9, Alpinist 9 Long Travel, Alpinist 12, Alpinist 12 Long Travel 
The Alpinist 9 & 12 have a gained a good reputation since their introduction two years ago. Lightweight efficient bindings that are easy to use, provide good control and won't slow you down when climbing. Marker have added the Alpinist 8 for winter 20/21 and it's a great choice for lighter skiers or skiers who prefer a binding that releases easily.
Available with a choice of  3 DIN settings, the Alpinists weighs only 245 g / ski.
With a relatively wide hole 38 mm hole drill pattern the Alpinist has sufficiently wide footprint for good power transfer and we'd recommend these bindings for skis up to 115 mm at the waist.
The toe-piece has a carbon-reinforced baseplate, anti-ice pads while elastomer "towers" make step-in easier.
To provide reliable release and control, the heel unit contains a small recoil spring for active length compensation.
The Alpinist heel unit has climbing aids with a choice of 0°, 5° and 9° angle for comfortable climbing.
On the ascent changing between climbing modes is easy and the three climbing heel positions are well designed, with a choice of flat, a low "race" position with a 5° ramp which covers the inserts without turning the heel unit, while turning the heel unit gives the  3rd high position with 9° ramp.
In use the "race" position will be used most and the simplicity of using this without having to turn the heel unit is well thought out.
Switching between hike and ride mode is simple and easy. 
The heel unit of the Alpinists has 15 mm of length adjustment for different sized boots  (+7.5 mm/-7.5 mm).
You do need to remove boots from the bindings to easily swap between modes but in practice this is not an issue -  most skiers will be doing this anyway to remove or add skins.
Ski crampons are available four widths, 80, 90, 105 and 120 mm.
Attaching them to the skis is easy, using the same attachment method as the industry standard Dynafit crampons, sliding into the crampon slot from the side.
The Alpinist bindings are available with three different DIN settings.
Marker Alpinist 8: lateral release 3-6 DIN, frontal release 6 DIN.
Marker Alpinist 9: lateral release 4-9, frontal release 8 DIN.
Marker Alpinist 12: lateral release 6-12, frontal release 8 DIN.
Should you require stronger or weaker vertical release then "U" springs with 6, 8 or 10 DIN are available as accessories.
These "U" springs do wear faster than independent pins as used on the Dynafit Speed and Plum Guide models, so should be checked from time to time for wear.
The Alpinist 9 & 12 Long Travel bindings come suppplied complete with ski brakes with a choice of 90 mm or 105 mm widths and the heel units have a "long travel" baseplate  with 30 mm ( +15mm/-15mm) adjustment for different boot lengths.
PLATE BINDINGS: Marker Baron EPF 13, F10 Tour EPF & F10 Tour.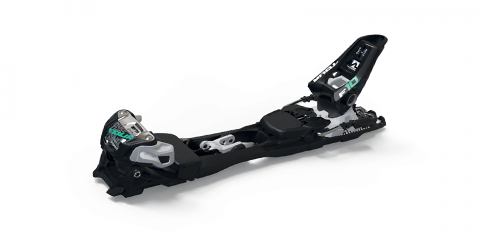 Most ski tourers will be looking for the more efficient pin bindings described above but some skiers prefer the ease of use a plate binding, which can also be used with alpine ski boots for shorter tours.
The Baron 13 EPF  has been updated and has the new Triple Pivot Elite 3 toe and Inter Pivot 3 heel units.
The F12 Tour EPF stays unchanged for this winter, same for the F10 Tour apart from now having a choice of 90 or 100 mm ski brakes.