Fischer are the leaders in nordic touring skis with no less than 12 models dedicated to this discipline.
Nordic touring is the ski discipline that has stayed nearest to the origins of skiing, when people crafted skis from locally available materials for covering snow covered ground, and it remains the most efficient way to travel over flat and undulating snowy terrain.
Nordic touring is also excellent exercise, and is often described as the perfect aerobic exercise since it involves all muscles groups and consumes plenty of calories and oxygen.
Like running or cycling, it's a sport that can demand a lot of effort, and the more effort you make the more fun it is.
The gear is simple and whether you'll be skiing around your local park, heading into the hills for the weekend or planning a month-long expedition in Greenland, the equipment stays much the same.Updated for 2022, with 12 models Fischer have a nordic touring ski ideal for the snow conditions you'll encounter and the type of tour you're planning to undertake.
All nordic touring skis have a "nordic camber" with a smooth base for gliding at the tip and tail and a central "kick zone" underfoot that provides traction with every step.
When the skier's weight is spread between the two skis the arched camber enables the skis to glide, while when weight is put on just one ski, the camber is flattened and the central zone grips the snow and provides forward propulsion. This central zone can either be smooth for applying grip wax, or can have a patterned  "fishscale" base that allows the ski to grip the snow.
Skins can also be use in this central area, and Fischer manufacture short "Easy Skins" 65 cm long that cover this central section. These are easy to clip into the slot at the front of the kick zone.
Skis with a smooth kick zone will give a more efficient glide than skis with a waxless "fishscale" base but do need a grip wax or skin to obtain any grip, while skis with a waxless base are very convenient, with the fishscales providing sufficient grip for climbing moderate slopes. Fischer have divided their nordic touring models into two series, Adventure and Backcountry. Of course all these skis are made for adventures in the backcountry, so let's see what is the difference here.
The Adventure series comprises 7 models ranging in width underfoot from 52 to 78 mm. We stock 6 of these models (but not the Adventure 62 Crown Xtralite, which is missing steel edges). All models have Fischer's Offtrack Crown waxless base, and apart from the two narrowest models the Adventure series skis all come equipped with the slot for attaching the Easy Skins. 
The Adventure series skis offer very practical climbing using either the waxless base or the Easy Skins, with a choice of widths. The narrower models are adapted to covering distance while the wider models offer easier and better downhill performance. New for 2022, the S-Bound 98 & S-Bound 112 models now have a slot in the tip to attach Fischer's new 67 mm wide Super Skin 6.7 skins, useful for when more grip is required than the shorter skins can provide.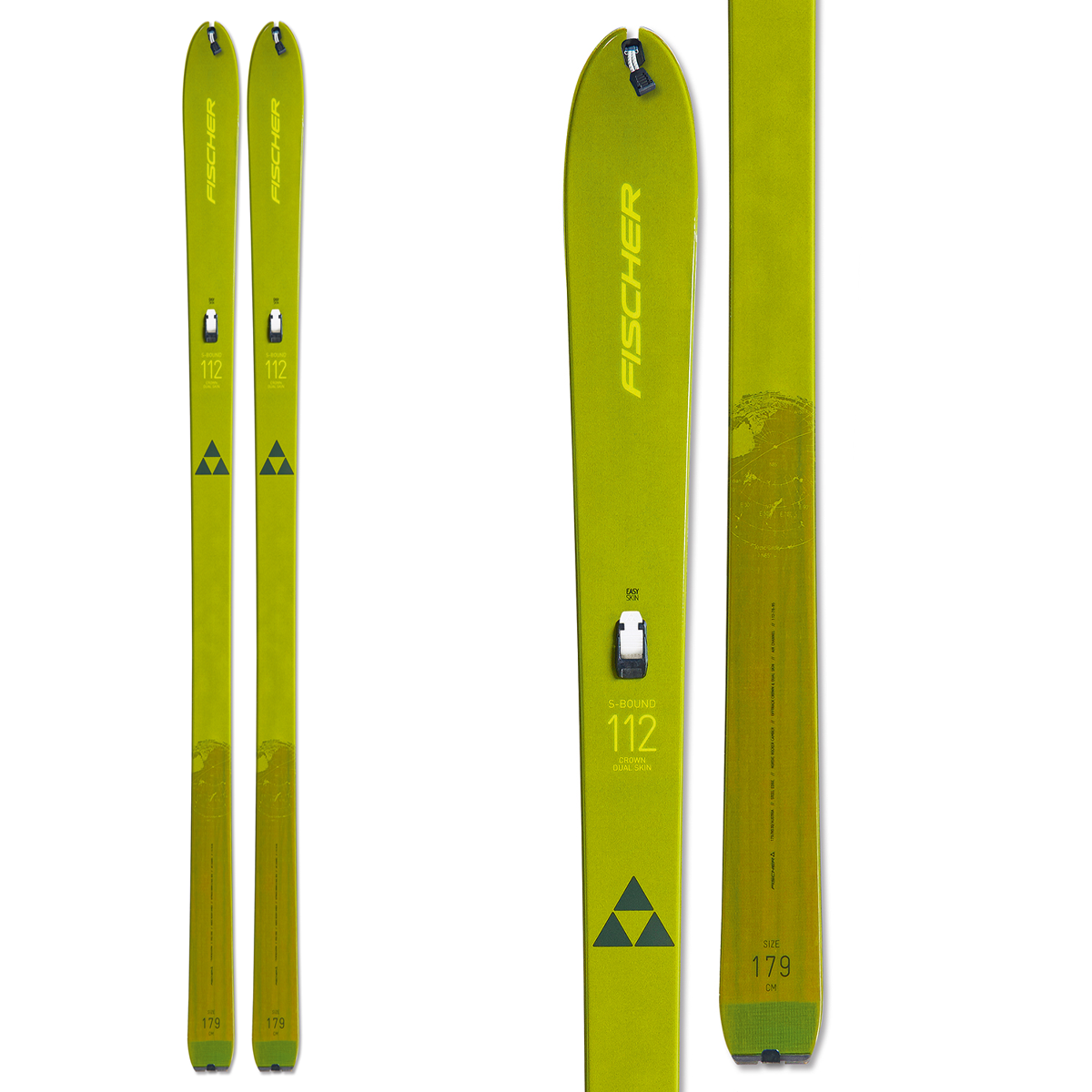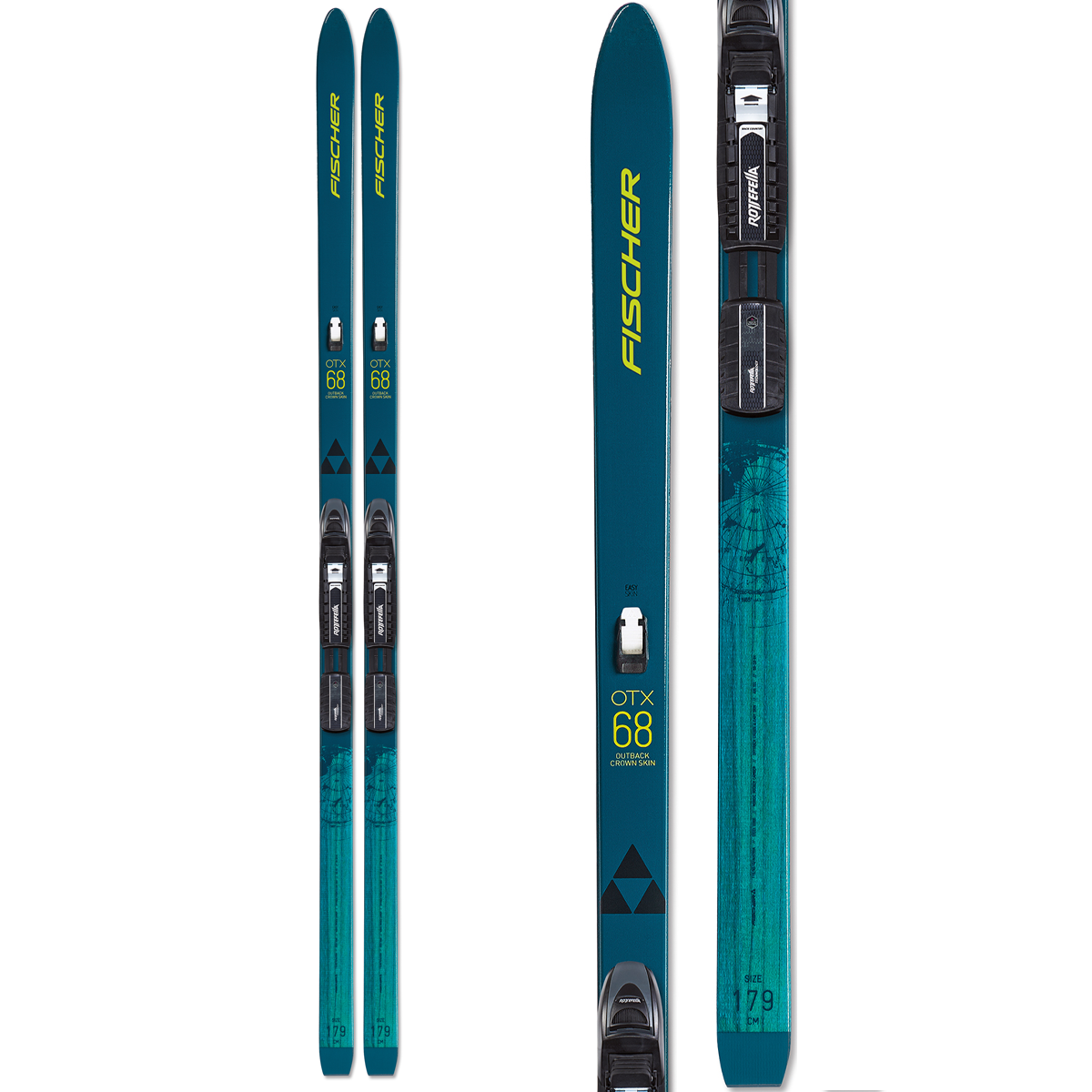 The Backcountry series has 5 "Transnordic" models and as the name suggests, these are made for efficient travel over long distances.
The Transnordic models have been developed from Fischer's E89, E99 and E109 skis, with small improvements and updates.
Fischer's E99 ski has been their best selling model, and the basis of their nordic touring range, for at least 30 years, so it's a big change for Fischer to re-name this ski for 2022!!
Now called the Transnordic 66, this skis is available in two versions. The Transnordic 66 Easy Skin Xtralite has a smooth base and the slot for the Easy Skins, while the Transnordic 66 Crown Xtralite has a waxless base but no slot for skins.
The E109 is now called the Transnordic 82 Easy Skin Xtralite and is the widest ski in the Backcountry series, with a smooth base and the Easy Skin slot.
The E89 is now called the Transnordic 59 and comes in two versions. The Transnordic 59 Easy Skin Xtralite has a smooth waxing base plus the slots for the Easy Skins.
The Transnordic 59 Twin Skin Xtralite (which we do not stock) has a central kick zone featuring an inbedded strip of skin wax, which can be replaced as required, and does not have the Easy Skin slots.
Fischer Easy Skins
Available in three widths of 35mm, 50mm and 65mm for 2022, these mohair-mix skins are easily clipped into the slot at the front of the kickzone.
Please note that these skins are NOT supplied with the skis, and should be bought separately.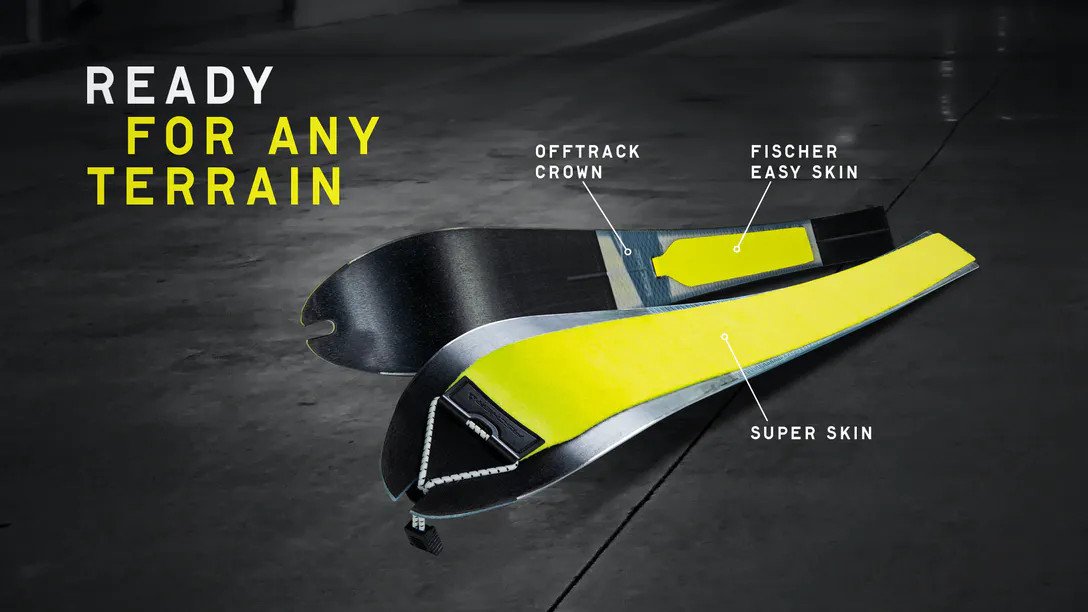 Fischer Super Skin 6.7
New for 2022, these mohair-mix skins are available in four lengths 159, 169, 179 and 189 cm and are designed for use with the S-Bound 98 & 112 skis, which now have a slot at the tip to attach these skins. 
Fischer's models offer a wide range of nordic touring skis that should suit every skier, from beginners wanting a lightweight ski for exercise to hardy arctic explorers.
Which model is best suited to you depends upon your priorities.
Ease of use:
The Adventure series skis with fishscales and Easy Skins are very practical for most conditions (you can always also use longer skins in steep / icy conditions), and offer good all round performance, especially if you live in a region with large daily temperature changes, which makes waxing difficult.
Long distance efficiency:
The smooth based Transnordic models will offer the most efficient glide but do require more attention for grip, using either wax or skins.
Easy to turn or efficient glide:
Choose a wider model and shorter length if you'd like a ski that's easy to turn so that downhill will be easier and / or more fun.
If distance is your goal, then choose a narrower model and longer length to maximise glide, accepting that downhill may be more challenging!!
The table below lists the characteristics of the 10 Fischer Nordic Touring skis we stock.