We tested the Line Ski Day 104 with the new 22 Designs Outlaw X bindings, mounted with my favourite super stiff springs. These bindings have an impressively powerful flex which starts as soon as the boot starts to lift, there is no initial dead point as there is with some bindings, the NTN Freeride in particular. Spring compression is immediate and gives the sensation of a long and even flex underfoot that is really agreeable and allows one to vary power transfer during the turn. Forward flex is sufficient - less than many 75 mm bindings but much more than the NTN Freerides. It's still an NTN binding though, so body stance stays a little higher than what's possible with 75 bindings, but you feel that the knees are bending sufficiently. Take care with those stiffy springs, reaction time is immediate!!
The updated step-in mechanism works beautifully, it's simple and effective on both hardpack and powder (skiers with the older version will know that fear that the skis will head off by themselves before the boot enters !!). 
The Outlaw X is not a release binding. Ski brakes are available in 4 widths, 80, 95, 110 and 125 mm. Be sure to use these, or 22 Design's excellent Coil Leash, our favourite leash and the strongest available.
For 2019 the independent parts manufacturer B&D Gear have produced ski crampons in four widths, 90, 95, 102 and 110 mm.
The Outlaw X comes in two sizes S & L.
The size S weighs 1540 g a pair and is compatible with Crispi and Scarpa boots up to 26 MP, Scott boots up to 25.5 MP.
The size L weighs 1620 g  a pair and is compatible with Crispi and Scarpa boots 26.5 MP and larger,  Scott boots 26 MP and larger.
Probably the most powerful telemark binding available, the Outlaw X is less rapid edge-to-edge than the Meidjo 2.1 thanks to the latter's precision supplied by the inserts, the lower binding height and much lower weight. In terms of frontal flex the Outlaw X is more powerful than the Meidjo with Redline springs and is just below the NTN Freeride with the (no longer made) Super Stiff springs.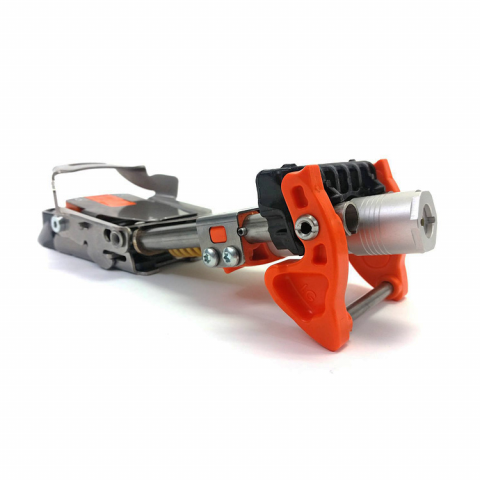 Telemark binding technology has taken a huge step forward the last few years thanks to 22 Designs and The M Equipment. The Outlaw X and Meidjo 2.1 are by far the best selling bindings and can be considered the future of telemarking. The easy step-in and very progressive forward flex makes the Outlaw X an excellent choice for resort skiing and for tourers not counting the grams.